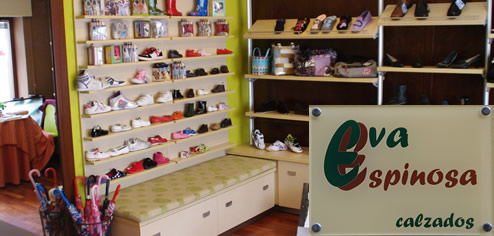 This shop was opened on May 7, 2009 in the same place where the old shoe store had been for twenty-four years. The idea of ​​starting this adventure
was to continue giving a service to the people as was being done until then.
In Footwear Eva Espinosa is intended to serve different types of clientele, from seniors to children, as well as everything, collect all kinds of orders when the customer needs special widths or numbers that are not usually in all brands.
My goal is to bring a wide range of products, but above all quality, and that the skin and good finishes prevail over the rest, and of course shoes from Elche, Villena, Almansa, etc. which are a guarantee of that quality that is intended.
Brands such as Paco Jaén, Doctor Cutillas, Gioseppo, Kelme, J'Hayber, Yumas, etc. They are what you will find in this establishment, as well as belts, leather goods, handbags, umbrellas …, and gift items can also be found in the store.
My intention is to gradually improve and satisfy the customer of the town and surroundings and facilitate their purchases to the fullest. Thank you.
Contact:
C/ San José, 18 – 03460 Beneixama (Alicante)
Phone: 695 60 70 14
Email: eva.calzados@gmail.com