GEOGRAPHIC LOCATION
The Vila de Beneixama is located in the northwestern corner of the province of Alicante. Both the town and its municipal area extend along a valley, the Vall de Beneixama, between the mountains of La Solana and Fontanella.
The municipality borders the province of Valencia to the north, where we find the population of Fontanars dels Alforins (Valencia), Banyeres de Mariola to the east, Biar to the south and Campo de Mirra to the west. Its enclave allows a very fast communication with the most important cities of the region, such as: Villena (11 km west) and Alcoy (22 km east). The capital of the province, Alicante, is only 60 km away, so the crossing almost entirely by motorway lasts a mere 45 minutes.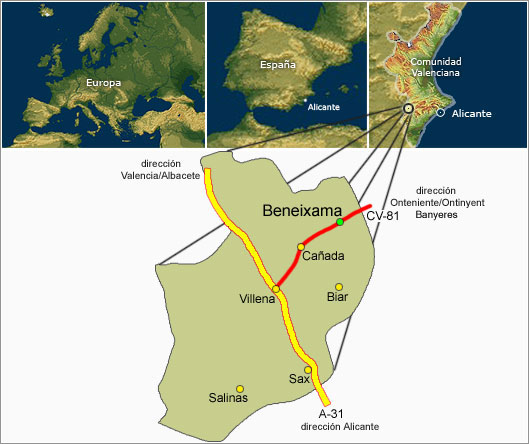 HOW TO GET
The main itineraries to reach the population are:
If the visitor comes from Madrid or from Alicante (Autovia A-31), take the exit as it passes through Villena towards Onteniente / Ontinynet, 5 km later the town of Cañada will cross, and about 11 km from Villena after leaving the Autovia, we find located Beneixama.
From Valencia: Take A-7 towards Alicante / Albacete for internal go to Ontinyent and continue towards Villena, Beneixama is located about 24 km. west of Ontinyent.
To get from the Northeast of the province of Alicante we will take Alcoy direction, and by CV795 we will continue to the town of Banyeres where it is linked to the road Villena CV81, and in about 8 or 9 km we will reach Beneixama.