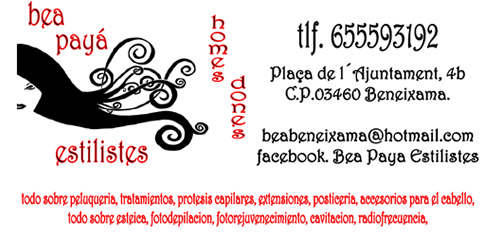 Who are we and what do we offer?
Bea paya estilistes, is a young, daring and fun company. It offers the latest trends in the world of hairdressing and aesthetics, thanks to continuous training.
Our philosophy is to provide the highest level of hairdressing and unisex aesthetics.
One factor to highlight in our salon is that the attention to our client is of the utmost importance. Providing the best personalized and non-transferable service, adapted to each client, so that you can obtain the maximum satisfaction.
These objectives are fulfilled thanks to the commitment, loyalty, and satisfaction of our customers.
Our services
– Barber Shop.
Brushing, cutting, color, treatments, technical works of all kinds, hair prostheses, extensions, posticeria, hair accessories …
– Esthetic.
Street, party, fantasy makeup … Depilation, Manicures, gel nails, porcelain … Pedicures, cleanings, treatments- …
– Photodepilation.
– Photorejuvenation.
– Cavitation / Radiofrequency.
– Podiatrist
Contact information:
Plaza del Ayuntamiento, nº 4b – 03460 Beneixama (Alicante)
Phone: 655 59 31 92
Email: beapayaes@hotmail.com
Facebook: https://www.facebook.com/beabaya.estilistes