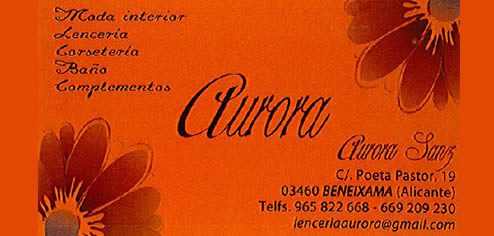 Shop opened on June 1, 2007, was born with the concern of Aurora to open a business, there were many to choose, the textile theme liked and also seeing that the town of Beneixama needed this type of store, we decided to open this business, the pretension was and is, to give a global service to our clients.
After three years, our main activity continues to be the sale of lingerie and underwear, today we have incorporated other lines of items such as bath, baby, pajamas, accessories, gifts and perfumes, which are currently an important part of the sale.
We intend with our trade to give a good service to our Beneixama customers and surrounding towns, offering a wide range of articles.
We work with leading brands in the sector, among many others Selmark, Ory, Playtex, Little Kiss, Filodoro, Flag Bearer, etc.
We invite you to visit us, we will be happy to assist you.
Greetings.
Aurora Sanz
Contact:
C/. Poeta Pastor, 19 – 03460 Beneixama (Alicante)
Phone: 965 82 26 68
Email: lenceriaaurora@gmail.com