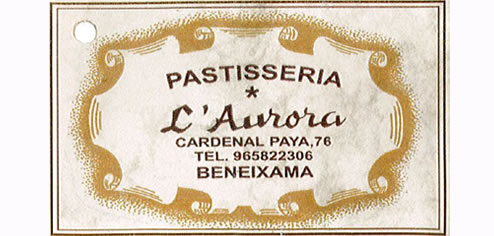 L' AURORA PASTRY, was opened in 1991. 20 years ago we started in the guild of the bakery, thanks to my father-in-law who picked up the baton from his parents who were pastry chefs.
The company was formed with great enthusiasm and to this day, we continue with the same enthusiasm, serving the people and surroundings every day.
Our products satisfy all kinds of pleasures for the most demanding palates. Within the wide range of products, we make both sweet and savory.
Of our main products and according to the time of year we could highlight:
As very typical home-made pastas such as mantecados, almendraos, coquetes d'oli, manchegos, escaldaos rolls, scaled rolls, rolls of escolación, and rusty rolls, as well as others, following the dates we go to the bones of saints or panalles and cakes of moniato, and we are approaching Christmas, and the range of sweets is wider, such as the trunks of CHRISTMAS, AND THE CAKES, AND THE CAKES and as you can not miss the nougat of jijona and of guirlache and of snow, and the glory and yolk cakes, and the roscon de reyes. The bakery continues with new ideas and tries to please the demands of its customers, both in birthday cakes, baptisms or communions, and wedding cakes, even anniversary cakes or other special demands. Continuing with the dates, we approach the day of the lovers or SAN VALENTIN, as they want to bring the illusion to their partner, then Father's Day, with a cake as a sign of affection for the father, then comes the PASCUA, being the MONAS our specialty. We make them of all styles and sizes for large and small, also chocolate especially for children, here the custom as in all the Valencian community is a product that godparents give to their nephews MONAS, whether they are chocolate or of mass with your egg, comes the month of May and are the COMMUNIONS AND THE DAY OF THE MOTHER, are cake days of great enthusiasm for children, with this I give you a story of what you can find and taste, apart We have more variety of products, legacy of our ancestors.
Have the pleasure of coming and taste my specialties in salty typical of Beneixama such as POTATO COCA,
GREETINGS!  AND THANK YOU.
Contact Information:
C/ Cardenal Payá, nº 76 – 03460 Beneixama (Alicante)
Phone: 965 82 23 06
Email: amparoconcabnx@gmail.com