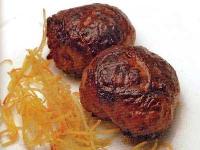 Ingredients:
300 g of pork liver.
300 g of pork lean.
150 grams of pork kidneys.
Randa (thin layer like a veil that covers the inside of the pig's stomach).
Black pepper.
Nutmeg.
Pinions.
Olive oil.
Salt
Preparation:
We crush the liver, the lean and the kidneys until obtaining an equal mass of meat. Add the spices and pine nuts, and knead the mixture until it is homogenized. We divide it into small portions of about 80 grams, and cover them with randa, giving them a crushed oval shape, to form the figatells.
The ideal preparation is on a grill with a few drops of oil, until grilled to the point.
They can be accompanied, like any sausage on the grill, with fried potatoes, or tender beans, or any fried or roasted seasonal vegetables.