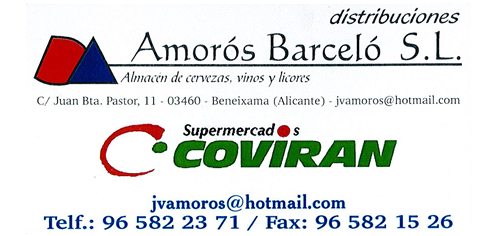 Distribuciones Amorós Barceló, S.L.
Distribuciones Amorós Barceló, S.L., is a company born with the spirit of offering the best service at the best price to its distinguished clientele.
Its business hours are from Monday to Saturday from 9 am to 2 pm and from 5 pm to 9 pm.
Among the various sections of products include:
Canned fish.
Enoteca with a select assortment of wines.
Charcuterie
Butcher shop.
Drinks.
Frozen
Fruits and vegetables.
Ice cubes and cubes.
Bread and pastries
Drugstore and perfumery.
Household.
WE HAVE SERVICE OF BOTTLERS, BARS AND FREEZERS FOR ALL CLASS OF EVENTS AND PARTIES OF MOROS AND CHRISTIANS
By joining the COVIRAN chain, it offers interesting biweekly offers.
Home delivery service for a purchase over € 20
Contact information:
C/ Juan Bta. Pastor, 11 – 03460 Beneixama (Alicante)
Phone: 965 82 23 71
Email: jvamoros@hotmail.com