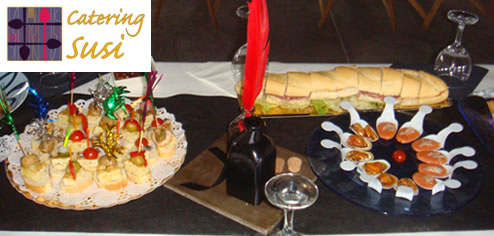 Susi Catering is a company of professionals in the hospitality industry and, more specifically in the catering service for comparsas, christenings, communions, bachelor parties, business dinners, shootings, etc.
We are a company specializing in traditional and homemade meals, which began its activity in 1999 in the Valencian Community and bordering and that to this day, we continue with our philosophy of offering our customers quality and good service at very reasonable prices
In addition to our experience and professionalism, Catering Susi offers a personalized service to ensure the success of any social, business or family event you want to organize and a wide range of menus within its traditional line, for your celebrations, business meetings or any another event that requires a catering service.
Catering Susi also has the material and logistical means to meet the needs of our customers and give them a complete service.
We offer quality and good taste in our products, prepared in a traditional way and with the usual homemade recipes and united to a professional and attentive service, so that our customers enjoy a quality meal and with the tranquility provided by knowing well taken care of.
Our services are very varied and always adapted to the needs that you have at all times:
Wedding.
Baptisms.
Communions
Presentations.
Spanish wine.
Cocktails
And any other service that you vd. wish
We work in your house, in your comparsa's premises, in your chalet and if you do not have where to celebrate your event, we provide you with the service of renting tents, chairs, tables, etc. so that he can hold his celebration there where you come to. Go well.
We also offer our experience throughout these years, standing out among the clients who have placed their trust in us:
Filming equipment of the series "L'Alquería blanca".
Obrint pas.
The last k closing.
Beneixama Rock.
Spanish Red Cross.
Group of choirs and dances of S. Antoni de Ibiza.
City Council of Beneixama.
Comparsa de Estudiantes de Beneixama.
Comparsa de Estudiantes de Biar.
Comparsa de Marrocs de Bocairent.
Comparsa de Contrabandistas de Bañeres.
Sirokos of Elda.
Captain bando moro of Ontinyent 2009.
Moros de Beneixama Captaincy 2009.
Captaincy Moros de Beneixama 2010.
Captaincy Llauradors de Beneixama 2009.
Capitanía Estudiants de Beneixama 2010.
Captaincy Marrocs de Bocairent 2009.
Captaincy Marrocs de Bocairent 2011.
Captaincy Students of Bañeres.
Food captains Moros Vells de Bañeres.
Falla Jacinto Benavente-Reina Doña Germana from Valencia.
Christians of Campo de Mirra.
Tuareg of Campo de Mirra.
Band of Music of Beneixama.
Field Music Band of Mirra.
Cañada Music Band
Band of Music "La Nova" of Bañeres.
Music Band of La Font de la Figuera.
Motoclub Bañeres.
Motoclub Beneixama.
And innumerable baptisms and communions in:
Beneixama, Bañeres, Fontanars d`els Aforíns, La Font de la Figuera, Campo de Mirra, Villena, Biar, Alcoy, Algemesí, Gorga, Ibi, Cocentaina, Alcoy Wall, Caudete, Sax, etc.
IF YOU WANT TO WORK WITH US, ASK FOR PRICES WITHOUT ANY COMMITMENT, IT WILL BE FOR US A PLEASURE TO ATTEND YOU AND IF WE ACHIEVE THAT YOU TRUST IN US, A HONOR TO SERVE YOU.
SINCE CATERING SUSI, WE WISH YOU THE BEST AND …
BON APPETITE!
Contact information:
C/ VICENTA FERRERO Nº 65 – 03460 Beneixama (Alicante)
Teléfon: 692 16 14 49
Email: cateringximoisusi@hotmail.com